Good things come in threes! Gold Partner of Microsoft and SAP, Apsia officially completes the golden trio by becoming Gold Partner of Cegid. This recognition encourages Apsia in its positioning and its mission: the one-stop-shop for digital cloud services that supports companies in their digital transformation.
Digitalising your business with the cloud
Complex IT tools that do not allow for the smooth sharing of information, obsolete operational processes or information systems (IS) that are no longer able to support development… How can companies deal with these challenges?
To meet these needs, Cegid, in partnership with Apsia, offers SMEs and SMIs the Cegid XRP Flex. Flexible, open and combinable, this Cloud ERP is an intuitive, user-oriented and customisable solution for managing Finance, Purchasing, Sales, Inventory, CRM and Business. Connected and secure, it allows companies to simplify their processes, optimise their performance and accelerate their growth.
Apsia, long term expert on the Cegid XRP Flex platform
Apsia is the first integrator to have implemented this platform in France.
Historical partner of the editor Acumatica and Cegid for the past two years, Apsia is strengthening its expertise with regular training for its consultants and is investing heavily in marketing and sales functions. 30 of its consultants have dedicated themselves to learning how to use this software, accumulating nearly 1000 hours of training.
These enable them to keep abreast of the latest innovations in the Cloud and to seize the opportunities offered by the evolutions of the solution such as the development of integrated Business Intelligence, connectivity to e-commerce platforms, mobility, banking communication with MesBanques, dematerialization of supplier invoices with Esker, and soon the intervention management and integrated production modules!
According to Cédric Le Marchand, Head of CEGID's offering: "This award reinforces Apsia's position as a key player in supporting SMEs and SMIs in the Cloud… Our approach allows them to gain productivity through business workflows, to control risks and costs and to better manage their financial, accounting and sales activities. The diversity of the modules offered with XRP Flex is a strong asset for our customers who have a complete suite of connected applications ranging from financial management to CRM and sales management. With this type of solution, our SME and ETI customers have real prospects to support their growth in the long term. "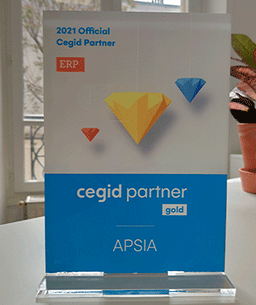 Apsia awarded for its expertise in cloud and digital transformation
This Gold Partner status confirms our mastery of Cegid solutions with the successful support of our clients such as « Pôle Prévention » and « Cojean », « Sport dans la Ville »or "Sword Group". This award guarantees Apsia's clients an optimal level of competence and expertise for the follow-up and completion of their projects. It also allows our teams to benefit from greater autonomy in their actions and to have more flexibility in the management of their future projects in partnership with Cegid.
According to Olivier Massonnat, CEO of Apsia: "This third appointment as a Gold Partner is a reward for Apsia and the result of a lot of investment both in terms of Cloud software expertise and in marketing and sales. With such a solution, the Digital Operations Platform model that we want to democratize takes on its full meaning: the solution covers all the needs of the company's key functions, integration is very fast, customization is possible with very little development, and the APIs interconnect with other application bricks from partners in the ecosystem. Performance, scalability and flexibility are all there and our customers are very satisfied to benefit from the advantages of the Cloud thanks to XRP Flex, which also innovates through its business model."