Tired of the Excel files inherited from the start-up of your company? You are now in an expansion phase and data is becoming essential for making relevant decisions? Do your processes need to be standardised to improve fluidity and performance? In this context of digital mutation of our practices, enterprise resource planning is becoming a major challenge to accelerate your growth. Apsia, a Microsoft Gold Partner, has thought of you…
Why integrate a Cloud ERP solution or upgrade your existing one?
In the past, companies had certain accounting, financial or human resources processes, but the software systems they used often worked separately and did not communicate or work together. What sets modern cloud ERP software apart is that it combines these different processes to collaborate and create a seamless system.
Today's solutions also allow each department to know what the other is doing. Finance, sales or marketing can therefore easily collaborate to have a common strategic vision, thus facilitating decision making.
ERP technology has evolved in line with new remote collaboration practices and is now more accessible, flexible and affordable in its cloud version. Gone are the days of heavy and time-consuming ERP systems! Cloud ERP software no longer requires installation or expensive hardware: it is available immediately, on demand via a simple subscription. It improves collaboration and helps your organisation make data-driven decisions to optimise business productivity.
Cloud ERP: challenges for international growth
Cloud ERP has become an indispensable foundation for international business growth. It allows you to work on a single software package with the advantage of having a common repository for companies with numerous subsidiaries abroad. So how can such software be standardised while allowing the development of local specificities?
A Core Model is developed and constitutes a standard version of the ERP on which the particular functionalities specific to the client's business will be implemented. The challenges of deploying a core model internationally are related to the harmonisation of processes. This makes it possible to achieve economies of scale thanks to the maintenance of a single version of a software package across all subsidiaries. The inclusion of processes in the Core Model will allow information to be fed back from all the key departments of the company: finance, sales, operations, marketing, etc. During a roll-out and thanks to this Cloud ERP, developments will be very fast and it will therefore be easier to integrate specific regulations for many countries.
An ERP solution specially designed for the needs of French Tech players
In order to support the growth of FrenchTech companies, Apsia, in partnership with Microsoft, has designed an offer that allows you to monitor performance in real time and make decisions based on all your data: Dynamics 365 including the Sales, Finance and Analytics modules.
This centralised and process-optimised platform allows you to enter the era of intelligent customer management, centralised and reliable financial management with advanced analytics.
This complete package implemented in only 4 months includes the project, licenses and support for each component (Sales, Finance and Analytics) from only 13k€ per month.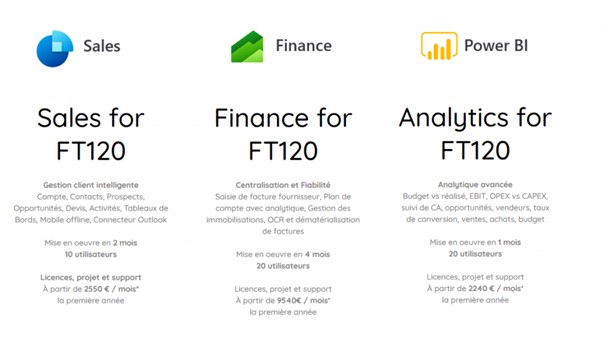 In order to discover this solution, we offer you 1 hour of free exchange with one of our experts. Let us know your availability by filling in the form below: